LARRY
The stressed-out corporate attorney who employs questionable business practices to keep his upscale mansion, while his wife is battling severe depression.


CARL
The glib, big business schemer – divorced, depressed, and overweight, boasting about his next big deal that will solve all his financial woes.


EDDIE
The Latino ex-marine and Iraq veteran, who loves dancing and his new career as a physical therapist – despite his newly developed "sensitive side", he will bite your head off if you talk like a pussy.


TOM
The new man, the youngest, out of work, struggling with being a stay-at-home dad, not sure about this group but willing to try.


MICHAEL
The unofficial group leader, a passionate college professor and sex addict in recovery – he is constantly pushing the men to open and reveal themselves, but he is blind to his own sagely advice.


MOHAMMED
The Iranian-born restaurant owner, politically opinionated, who often feels betrayed by his wife and anyone who does not see things his way.

NEIL
The lonely New-Age social worker, who usually strikes out with women and never knows when to stop talking.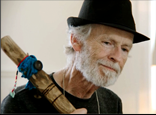 FRED
A veteran of the 60's counter-culture – the accountant who dropped out, turned poet, but can't give up comic-books, weed, or chronic self-deprecation.