WHAT HAPPENS WHEN MEN BECOME BRUTALLY HONEST?
"The Hangover this is not. Instead, it explores men trying to support each other but ending up triggering each other, escalating tensions as more and more secrets are revealed until the startling, cathartic climax.  Like The Big Chill, it's ensemble acting at its finest, and like Sideways, it's an insightful exploration of men's issues that will appeal to both men and women. The story is complex, beautifully written, deftly filmed."  – New Times
"Welcome to the Men's Group is full of surprises. It promised to be cutting-edge, but wow, Welcome to the Men's Group was so much more than I had expected! It will make you laugh, it will make you cry. This is a film that changes the rules."      – Agenda Magazine 
An inspiring 
comedy-drama
that will
awaken men
to the idea that untangling their inner lives will make them happier.
Much more than a movie – it's a catalyst for change!
Joseph Culp and Scott Ben-Yashar bring you a film that explores what happens in a men's group when people are no longer willing to hide behind social conventions. Welcome to the Men's Group is a comedy-drama that explores real-life issues that affect everyone (not just men). The modern male is under pressure like never before, and WTTMG explores how men deal, or don't deal, with these issues, and how it effects their lives and families.
OUR GOAL
We hope this movie will inspire millions of men to start untangling their inner lives, so that they may live happier, more fulfilling lives, resulting in a better world for everyone.
We want this film to reach as many people as possible, so that it can change lives and make the world a better place. Therefore, we need your help with marketing and publicity.
Please consider a donation to our PayPal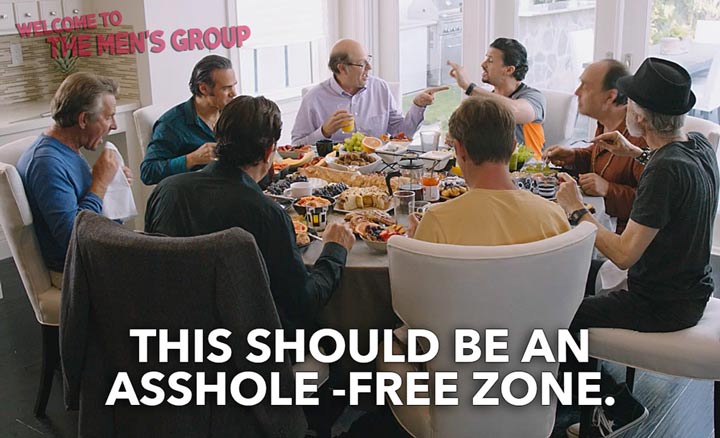 SYNOPSIS
This film takes us inside the intimate dynamic of an all-male support group (read character outlines) when they gather one morning for a ritual breakfast and their unique form of male bonding. One Sunday a month, these eight men refrain from beer and football to sit in a circle where they share their personal issues, in the noble hope of becoming a bit more evolved than their fathers.
On this day, things do not go as planned when one member appears headed for a breakdown, and long-standing conflict and secrets threaten to destroy the trust between the men.
WELCOME TO THE MEN'S GROUP is an emotional roller-coaster through the often bumpy inner terrain of the male psyche, as we hear the men open about their lives, sharing truth, telling lies, and revealing secrets they dare not discuss in their lives.
The film is largely inspired by the phenomenon of the "Men's Movement" of the past 30 years that was championed by writers like the poet Robert Bly and his bestselling book "Iron John" which explored the need for men to reconnect to their authenticity through storytelling, myth and ritualized gathering. The film shows the major shift in men's consciousness and the changing attitudes towards traditional models of masculinity that are evolving every day.
It is a challenging look at "male vulnerability". It also uses humor and irreverence to celebrate the zaniness and absurdity of men – "Irreverence is the doorway to the sacred." Ultimately the film shows a group of flawed men in a noble, painful and outrageously funny struggle to find their authenticity and a sense of community, and invites us, both men and women, to do the same.